An agent complained on social media yesterday about the number of touting letters – 26 – that went to a client's property in 24 days. All apparently came from just one firm.
Martin & Co Norwich copied in The Property Ombudsman, Norfolk Trading Standards and EYE on its tweet, which appeared to point the finger at haart.
The tweet was headed "Beyond harassment".
It said: "Our landlord client has received 26 touting letters from the same agent in 24 days!! And the property has been marked 'Let Agreed' for eight of those. Sadly, such velocity of letters is the norm."
The tweet uses the hashtag "desperate or what"?
Yesterday evening Martin & Co Norwich partner Matthew White told EYE: "A colleague was at the property today with the people who are about to move in, when this pile of letters was seen, with haart's name visible. There were 26 of them.
"Agents do tout round here, but haart are easily the worst offenders – to the extent that it's quite shocking."
We have approached haart for comment.
TPO does have a code on canvassing. It does not outlaw it, but cites inappropriate practices including  "continuous unsolicited calls, texts, emails (including online communications) or general junk mail".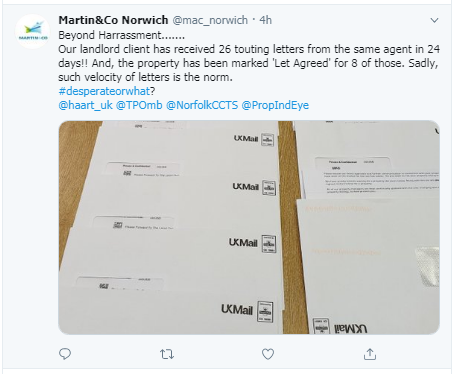 [ad_2]

Source link